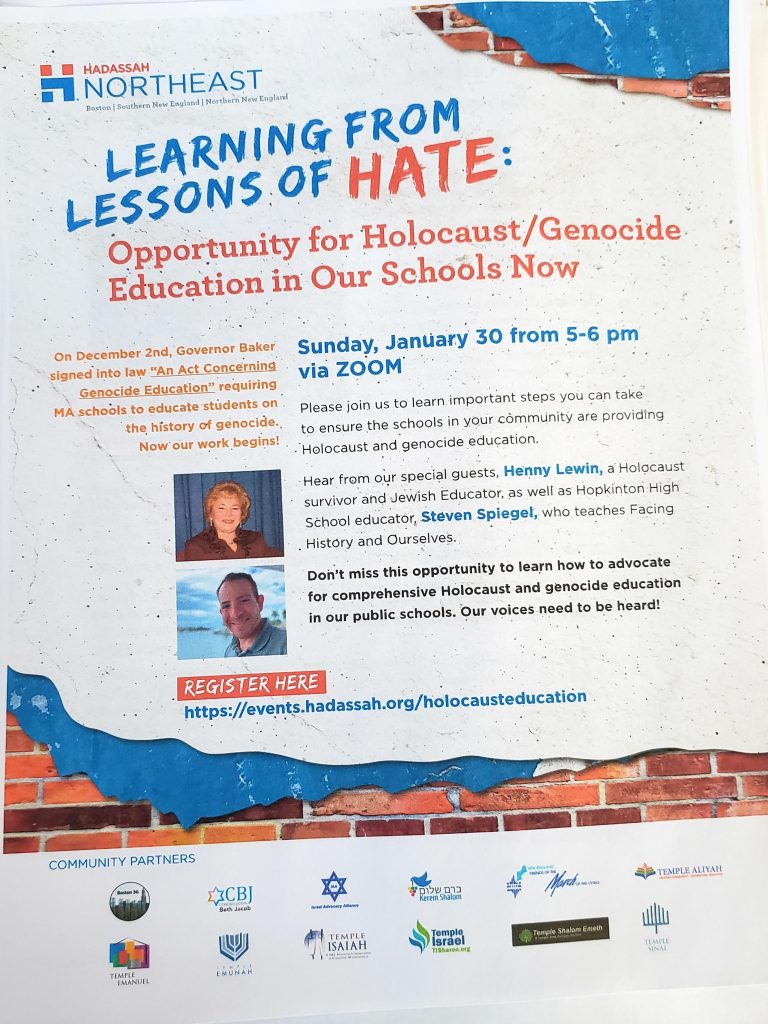 On January 30, Hadassah Northeast, in association with 13 Community Partners across Greater Boston, will present a unique, free virtual educational program designed to heighten awareness about the need to advocate for robust Holocaust and genocide education in public schools.
The Zoom program will start at 5 pm and is open to all. Advance registration is required.
The program title is 'Learning from Lessons of Hate: The Opportunity for Holocaust/Genocide Education in Our Schools Now.' This initiative follows a law signed in December by Gov. Charlie Baker making genocide education compulsory in all Massachusetts middle and high schools. The program closely follows International Holocaust Remembrance Day on January 27.
Featured guests will be Holocaust survivor and Jewish educator Henny Lewin who will share her personal story, and Hopkinton High School educator Steven Spiegel who will share his success engaging and educating students about the Holocaust and other genocides based on a curriculum developed by Facing History and Ourselves. A goal of the program is to provide a roadmap on effective ways community members can work to ensure that public schools are educating students in a comprehensive and impactful way so the next generation will "Never forget." To register, visit https://events.hadassah.org/holocausteducation
The event's Community Partners include: Boston 3g, Congregation Beth Jacob, Israel Advocacy Alliance, Kerem Shalom, New England Friends of the March of the Living, Temple Aliyah, Temple Beth Shalom, Temple Emanuel, Temple Emunah, Temple Isaiah, Temple Israel, Temple Shalom Emeth, and Temple Sinai, and New England Friends of March of the Living.
Irv Kempner, Chair of New England Friends of March of the Living (NEFMOTL), says, "As a recognized leading purveyor of Holocaust education, we are delighted and honored to be invited to participate with other like-minded organizations in this important and timely program." Each year, NEFMOTL, as part of an international educational program, brings teens from the region to Poland and Israel for a life-changing trip to learn about the roots of prejudice and anti-Semitism. "These are our future community leaders," Kempner says. NEFMOTL is offering a $2,000 scholarship for every Jewish Massachusetts high school junior or senior qualifying for the life-changing 2022 MOTL trip April 24 – May 8, 2022 to Poland and Israel. For teen trip details, contact Aaron Kischel: kischel7241@gmail.com / 781-799-4765. For more info, visit https://motlnewengland.org